People always seem to say that if you major in something you love, you'll never work a day in your life.
Well, maybe that's true, or maybe that's only because no one is hiring in that field.
Sometimes it seems like every other job listing on the market is for developer jobs. For those wanting to make the switch to becoming a professional software developer, it can be intimidating to think about a career change. Especially one that requires so much additional education.
However, the truth is that becoming a coder doesn't mean that you have to go back to school or give up on your passion. Virtually every field (not just the tech industry) is desperate for computer programming skills, and there are actually many programmer jobs without degree requirements. Here's how to become a computer programmer without a degree.
Diplomas don't build websites
The world runs on code. We look to the ever-powerful internet to aid us in everything from what to eat and wear, to which movie or doctor to see. As such, a company's website is its most valuable advertising tool and often the thing that convinces consumers of legitimacy.
However, even with so much riding on them, the supply of coders is nowhere near meeting the demand in the job market. In 2015 there were 59,000 graduates in computer science that were applying for over 500,000 unfilled programming jobs. It doesn't take an advanced degree to see that there is a lot of opportunity there. And when employers are fighting over you, the incentives get good. According to Glassdoor.com, programmers make an average annual salary of more than $66,000, with the potential to earn over $100,000.
Why are there so many open coding positions? Probably for a lot of the same reasons you're not filling them: time, money, intimidation. It takes four years to get a bachelor's degree in computer science, not to mention the cost of that four your degree (averaging between $112,000 – $236,000). And coding can be a daunting subject. Constantly evolving technology, rapidly changing trends, and all in new programming languages make coding a potentially scary undertaking.
But while a college degree may be the traditional route to becoming a programmer, companies aren't necessarily looking for tradition. Programmers are simply creative problem solvers. If you have these skills and are passionate about learning, you can find programming jobs or even become a computer programmer without a degree—provided you have the passion, determination, and a few specific skills.
[cta id="780″ vid="0″]
Programming: many paths; one destination
It may seem intimidating, but there are some simple steps you can take right now to get the ball rolling on your future. The most in-demand programming skill is being able to speak (or write) in different programming languages. Invest in a few introductory books on SQL, JavaScript, HTML5, GitHumb, or Java. There's no need to feel intimidated; there are programming language that cater to all skill levels, including entry level.
Additionally, a quick internet search will yield thousands of websites full of free resources and tutorials that will help you find your footing, start exploring the world of coding, and get yourself into an entry-level programming job without degree requirements. Massive online courses (MOOCs) have the benefit of a structured class setting without the associated costs.
And then ask around. Ask you programming friends, cousins, and casual acquaintances for their recommendations. They're sure to have some old resources lying around that they'd be happy to unload on you. They may have studied C.S. in college, but they'll likely be the first to tell you that you don't need to take on a student loan to learn programming.
As with all specialities, practice makes perfect. Once you've dipped your toe in, why not take the plunge head first? Take up a side project or two. Create your own website, do some volunteer coding for friends or local businesses, and contribute to some of those open-source projects you stumbled across while teaching yourself. Not only will working on actual projects develop your skills fast, but it will also give you something tangible in the form of a programming portfolio to show to those companies who are desperately looking for talented developers.
And yes, it's true, this is all much easier said than done. It's still a lot of information that can quickly become overwhelming. Teaching yourself can be time-consuming and confusing, MOOCs may give you the skills but no certification that you can use on a resume. But if you can't commit four years and around $150,000 to a college for a C.S. degree, how about 14 weeks and ~$11,500? Coding schools, or coding bootcamps, are a condensed, economically savvy choice for the hopeful programmer. With programs in 74 US cities and 40 states, they are a viable option for practically everyone.
Coding crash course
Coding bootcamps consist of a condensed, focused curriculum that gives you the same marketable skills you'd gain from a traditional four-year C.S. degree in a fraction of the time and at a fraction of the cost.
While the courses can range from 12 to 24 weeks long (with 14 weeks as the average length), most students graduate with all of the experience and know-how they need for finding a job without a degree. Graduates of coding bootcamps boast a job placement rate of 80%, with most finding a job using their certification one to six months after graduation. Not only are they gainfully employed using their newly acquired skill set, they are also enjoying an average salary of over $60,000 right out of the gate.
If you're still on the fence about coding bootcamps, consider not only the average 51% pay raise and over 80% job placement rate, but the 8.3/10 satisfaction rating that graduates report. After all, it's not enough to make more money if you don't also enjoy what you're doing. Programmers are needed in every field, working with all kinds of products. This is a skill that can help you get into the field of your choice, while also contributing in an immediate and significant way.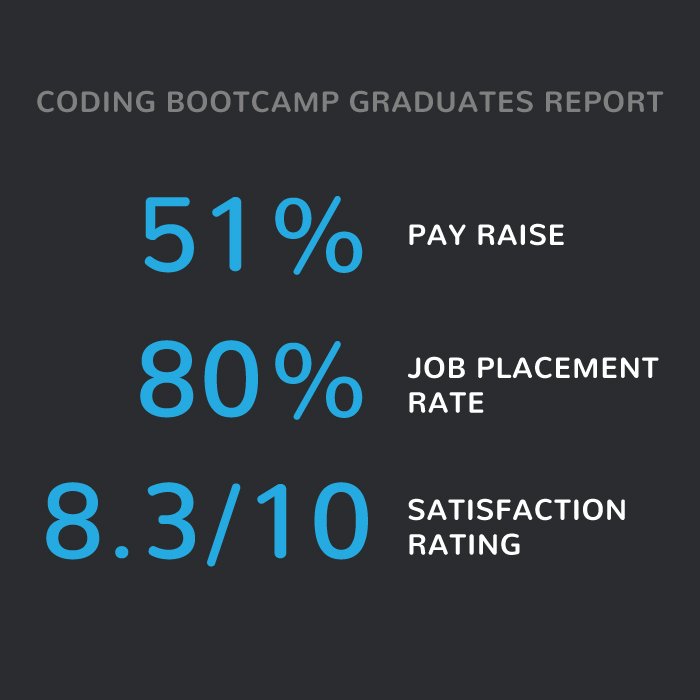 The 93 (and counting) Coding-Bootcamp options available in the US and Canada all vary, and some may serve your needs better than others. Make sure to do your research. Reach out to these schools and learn all you can about what they offer. Get in touch with past graduates and start making connections. You'll quickly find the program that is right for you and that will help you build a great portfolio.
A push in the right direction
For anyone who is ready for a change and willing to work for it, programming is an incredible option. With dedication and a motivated business analyst mindset, you can create a new career for yourself that is better than you could have imagined.
Want to know how to get a programming job without a degree? It may be easier than you think. That's because you don't need a degree to write code, you just need a push in the right direction. Research coding bootcamps near you, and take the first step to a brighter future where your work doesn't feel like work.
[cta id="780″ vid="0″]