A Look at Devmountain's Dallas Campus Downtown
Devmountain's Dallas campus is located downtown in the historic Butler Brothers Building next to JFKEG & Kitchen and down the street from the J. Erik Jonsson Central Library. The campus is on the lower level, offering garden-level coder vibes for dedicated bootcamp students who're ready to learn web development in a collaborative, in-person environment.
You can always schedule an in-person tour to see the campus for yourself, but, in the meantime, here's a little bit about what cool features the space has to offer Devmountain students.
Devmountain Housing at No Extra Cost for Immersive Students
In the coding bootcamp space, Devmountain has a fairly unique offering on all three of its main campuses (Dallas, Phoenix, Lehi)—housing at no extra cost for immersive students. And, the housing at the Dallas campus is located in the same building as the campus, so students only have an elevator commute.
Each apartment is furnished for up to four students, so you and three roommates—or future best friends—can live and learn together for the duration of the Web Development program.
Dedicated Instructional Classrooms and Breakout Study Rooms
The Dallas campus features two instructional classrooms, a lecture hall, and several breakout study rooms to promote web development learning. The lecture hall is located above the rest of the campus while the classrooms and breakout study rooms are all on the same lower level.
While students are required to bring their own laptops to class every day for the duration of the Web Development program, external monitors are provided in each classroom for student use.
Large Student Lounge and Dining Space for Fun and Relaxation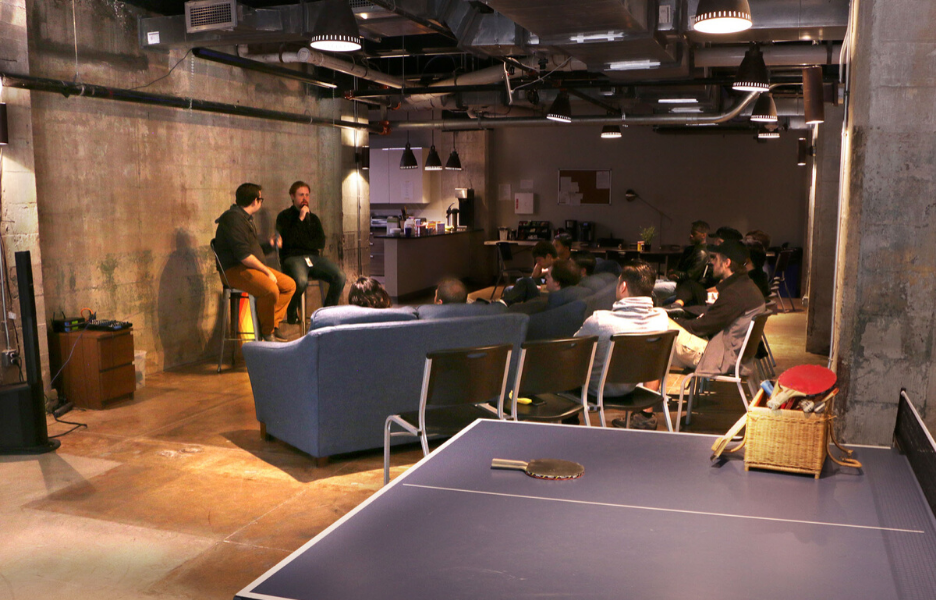 There's no getting around the hard work that goes on at Devmountain—it is a bootcamp, after all—but everybody needs a break from time to time, which is why the student lounge provides students with TV, ping pong, foosball, free soda, coffee, and breakfast on Friday mornings.
A food and dining area is also part of the lounge, complete with fridge space, microwaves, a toaster oven, a dishwasher, a sink, food prep surfaces, a lengthy dining table, and couches.
Fitness Center to Feel the Burn and Outdoor Pool to Cool Down
Devmountain students can use the Butler Brothers Building fitness center and the outdoor pool, which is great because keeping physically active in between intense coding sessions may be exactly what some students need to make the most of their Devmountain bootcamp experience.
Art Room and Music Room to Let Your Creative Side Show
Coding can certainly be creative, but it's not the only creative outlet Devmountain students have access to on the Dallas campus. The art room and music room can be great places for letting your creativity out. You could paint a picture or jam out with some fellow musical friends.
Theater Room and Video Game Room for Tech and Media Fun
On top of the game systems in the Devmountain lounge, there are additional dedicated video game rooms that students can take advantage of. And, there's also a full theater room with fancy red chairs, a fantastic projector, and a great sound system for streaming movies and shows.
Ready to Schedule an In-Person Tour of Devmountain Dallas?
When you're ready to check out Devmountain's cool campus in downtown Dallas at the historic Butler Brothers Building for yourself, you can easily schedule an in-person tour with our friendly campus director. They'll be happy to show you the apartments, amenities, and atmospheric learning environment, answering your questions about bootcamp learning along the way.
Recommended Reading
Your Guide to Living in Dallas: The Best Things To Do In Dallas, Texas
Coolest Tech Companies to Work for in Dallas